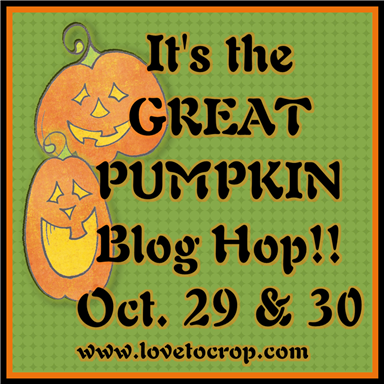 Welcome to the "It's the Great Pumpkin Blog Hop!". This is Day 2! Thank you so much for stopping by. If you are co
ming from Anita C. ~ http://www.anitaandbugs.blogspot.com/, then you are
in the right spo
t.

Please be sure to visit BOTH days for maximum ideas, maximum FUN, and maximum chances to WIN!! Our hostess, Amy at www.lovetocrop.com has some SUPER prizes for a few hoppers, so be sure to check out all of those details on her blog!!
In addition to the project I posted yesterday, I used the Stampin' Up! Carved and Candlelit stamp set to make a fun embellishment. I am using this stamp set to make cute little tags for some treats my daughter and son are handing out to their friends for this great holiday.
These were so easy to throw together using my SU punches. I did not get a chance to take a picture of everything put together but here is what was in the bags: Smores! a couple of graham crackers, a mini Hershey's bar and a ghost peep. It just makes me smile.
And since this is all about PUMPKINS, here are the pumpkins we made this year :) We painted them this year as I had a bit of an incident earlier this year with a knife (which by the way post-surgery, my finger looks awesome and I have full functionality back! Yay!). So yeah, we put away our knives and wielded paintbrushes this year. The one on the left is mine, the wolverine in the middle is my 5 year old son's and the girly girl one is my daughter's who is 6 going on 7. We had a lot of fun!
Thanks so much for stopping by.
Your next stop is Shannon at http://www.purplelionpaper.com/blog.
1. Amy ~ http://www.lovetocrop.com/
2. Melissa ~ http://acreativejourneywithmelissa.blogspot.com/
3. Ashley ~ http://theglamoroussideofscrapping.blogspot.com
4. Anita ~ http://www.anitaandbugs.blogspot.com/
5. Nancy ~ http://blog.fancywithnancy.com/
6. Shannon ~ http://www.purplelionpaper.com/blog
7. Amber ~ http://pixiperfectcreations.blogspot.com
8. Linda ~ http://www.lindascreativity.blogspot.com/
10. Colleen ~ http://www.cbcscrapbooking.blogspot.com
11. Jennifer ~ www.craftycardgallery.blogspot.com
12. Lisa ~ http://handmadewithlove-lisa.blogspot.com
13. Nicolette ~ www.beyondscrapin.blogspot.com
14. April ~ http://www.curlsandgrins.blogspot.com
15. Theresa ~ www.thescrapbookingqueen.com
16. Jessica ~ http://thecreativestamperspot.blogspot.com
19. Brenda ~ http://createbyburffrau.blogspot.com/
20. Jamie ~ http://myamusinglife.blogspot.com/
21. Maria ~ http://www.mdcraftcorner.blogspot.com/
22. Sherry ~ http://www.patternsbysher.blogspot.com